Signature Analysis

Handwriting Analysis

Signature Correction

Life Predictions





Navratri, Navratra, Goddess, Lord, Goddess Durga , Maa, Maa Durga, Nav Durga, form, nine forms
Navratri>Nine forms
Navratri - Navdurga - nine forms of Maa Durga
Chaitra Navaratra 2020 (March 25th to April 2nd)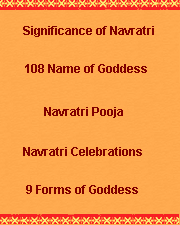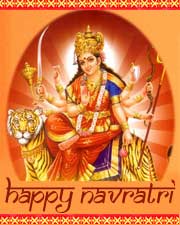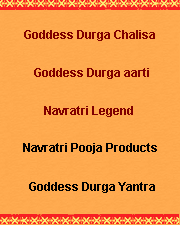 Navratri Pooja - Navdurga Puja
The festival of Navratri begins.
1st - 3rd day of Navratri
On the first day of the Navaratra pooja, 'Kalash Shthaapna. is done in the puja room. These initial days of puja are dedicated to Durga Maa, the Goddess of power and energy. Her various manifestations, Kumari, Parvati and Kali are all worshipped during these days. They represent the three different classes of womanhood that include the child, the young girl and the mature woman.


Lalita Panchami
4th - 6th day of Navratri During these days of Navratri puja, Lakshmi Maa, the Goddess of peace and prosperity is worshipped. On the fifth day which is known as Lalita Panchami, it is traditional, to gather and display all literature available in the house, light a lamp or 'diya' to invoke Saraswati Maa, the Goddess of knowledge and art.


Durga Ashtami Puja
These final days of Navratri pooja belongs to Saraswati Maa who is worshipped to acquire the spiritual knowledge. This in turn will free us from all earthly bondage. But on the 8th day of this colorful festival, yajna (holy fire) is performed. Ghee (clarified butter), kheer (rice pudding) and sesame seeds form the holy offering to Goddess Durga Maa.


Mahanavami Puja. Navratri ends with the final pooja of Navratri on the ninth day. The festival of Navratri culminates in Mahanavami. On this day Kanya Puja is performed. Nine young girls representing the nine forms of Goddess Durga are worshiped. Their feets are washed as a mark of respect for the Goddess and then they are offered food mainly consisting kala chana, halwa and poori. Then after new clothes or gifts by the worshiper. This ritual is performed in most parts of the country.


Kalash Sthaapna in Navraatri Pooja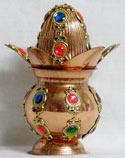 On the first day of the Navaratras, a small bed of mud is prepared in the puja room of the house and barley seeds are sown on it. On this Bed a Kalash made of Copper is kept and filled with water. Above the pot a bowl filled with rice is kept. A dry Cococunt wrapped with mango leaves is then kept over this kalash. This Kalash is believed to be a symbolic form of Goddess Durga. By keeping kalash one invocates the goddess in the Kalash.
On the tenth day, the shoots are about 3 - 5 inches in length. After the puja, these seedlings are pulled out and given to devotees as a blessing from god. This Kalash must not be touched during the nine days . One diya is lit close to this Kalash which is supposed to burn endlessly for nine days. This is known as Akhand Jyoti.
Many people believe that the length of the Shoots determines the Quantum of income that they will have in coming six months. This belief could have been because India was basically an agrarian economy wherein the productivity of the Land determined one's income.
In Navratra each night( ratri) is dedicated to one form of Goddess Durga.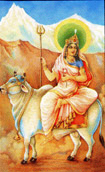 Maa Shailputri

On the first day of Navratri we worship Goddess Shailputri. Shailputri means the Daughter of a Mountain. As she took birth as the daughter of Parvatraaj Himalaya (King of the Mountain Himalaya) she is known as Shailputri.
Mounting a bullock the mother has a lance in her right hand and the lotus flower in the left. She is the first one among the nine aspects of Durga.
She is the First among the Navdugra. In her earlier life she was born to Daksha Prajapati. In that life she was known as Sati. Once Daksha organised a pompous yajna and invited all Gods but neglected Lord Shiva.
When Sati came to know about the festivity arranged by her father, a strong desire arose in her heart to participate in the ceremony. She expressed her desire to Lord Shiva and solicited his permission. Considering all pros and cons Lord Shiva said - 'Prajapati is displeased with me for the reasons known to him only. He invited in his function all gods and offered their sacrificial share to them. He did not invite me purposely; not even informed me. Under such circumstances it will not be proper for you to go there.'
Sati was not convinced with the piece of advice given by the Lord. The eagerness to see the ceremony and the prospect of seeing the mother and sisters did not subside. The Lord saw that Sati was very keen to go there so he gave her green signal.
A sense of strange joy started waving in her heart. She made necessary preparation and started. But all her enthusiasm subsided like the bubbles the moment she reached there. She found no affection in any eyes except her mother. Only she embraced her. She noticed not even a scintilla of cordiality for her. Not only this she felt a sense of sarcasm and ridicule in what her sisters remarked. She was greatly pained with the insulting attitude of her own relatives. The entire atmosphere was surcharged with a sense of disrespect for Lord Shiva. Daksa passed certain humiliating remarks intended for Lord Shiva. She watched all this and lost her balance. A mental storm made her full of remorse and anger. She repented on having overruled objection by her Lord.
She could not bear the insult of her spouse. Realizing this as a disrespect of her dear Husband Sati decided to burn herself with yoganidraa and died. In her next life she took rebirth as Shail -putri.
The news of her demise reached Lord Shiva and he decided to give a good lesson to Daksha. The entire sacrificial canopy along with all paraphernalia was completely destroyed by his lieutenants.
Maa Shailputri is the mother of Lord Ganesha & Lord Kartikeya.
According to one of the Upanisadic tales she in her Haimavati aspect defeated all prominent gods. Like her previous birth in this life also Sailaputri got married with Lord Shiva. The first and the most prominent among Nava Durgas, Sailaputri is of immense importance and her glories are endless.
On the first day of Navratra worship it is she who is worshipped. In this puja of the first day Yogi's keep their mind concentrated on Muladhara. This is the starting point of their spiritual discipline.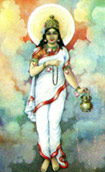 Maa Brahmachaarini

Brahma means tapasya or meditation. Maa durga 's second form is of Maa Brahmacharini - one of the Navdurga . Brahma-charini means one who practices tapasya.
In her last life she was born as the daughter of Pravatraj Himalaya. At that time she followed the guidelines of Devarshi Narad and meditated for more than one thousand years to have Lord Shiva as her husband. She is worshipped on the second day of Navratri.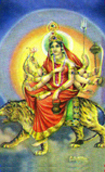 Maa Chandraghantaa

Maa durga's third form is Maa Chandraghanta. She is known as Chandraghanta because she is adorned by a Crescent Moon (Chandra) shaped like a Ghantaa (a metallic bell).
Maa Chandraghanta punishes the demons and devilish persons. She ensures justice by saving her devotees from all kinds of dangers.
Maa Kushmanda

Maa Durga's fourth form is Maa Kushmanda. she provides the basic necessities, and every day sustenance to the world. She is worshipped on fourth day of Navratri or Navratra.
When the world was not in existence, there was darkness all around. At this time, Maa Kushmandaa created the Brahmand with her 'Ishat' laughter. This way, she is the creator of the whole universe and she is the aadi shakti.
She is believed to reside in the innermost core of Sun. Her light and energy energizes all ten directions.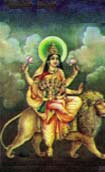 Maa Skanmata

Maa Durga's fifth form is Maa Skandmata. She is worshipped on the fifth day of Navratri.
During Navratra her worship blesses the saadhak is blessed with bounties of all kinds. She is also known as Padmaasanaa as she sits on a Lotus.
She is known as Skandamaata because she is the mother of Skanda or Lord Kaartikeya. Lord Kartikeya was the Chief of God's army during devaasur sangram.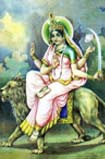 Maa Katyayini

Maa Durga's sixth form is Maa Katyayini. There is an interesting story behind her name - there was a very famous Rishi named Kat. Her son was known as Kaatya. Famous Rishi Kaatyayan was born as his successor only. He did a very tough anushthaan to worship Bhagwati Durga. He desired to have Maa Durga as his daughter.
Maiya accepted his request. Later when the Demon Mahishaasur created havoc around the World then all three top gods contributed their energies to request Maiya to take a new form to end Mahishasur. As magharshi Kaatyayan had worshipped first she took the new form and was adorned with the name of Kaatyayini. Maa durga's Katyayini is worshipped on sixth day of Navratras.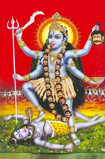 Maa Kaalratri

Maiya Kaalratri is also known as Maa Kaali or Maa Mahaa Kaali. Her name is believed to have originated from an incident when Lord Shiva once addressed her as Kaali out of love and grace.
Maa MahaaKaali is worshipped on the seventh day of Navdurga.
Maa Mahakaali killed Raktabeeja (A demon who had the power to produce a demon from every drop of blood that fell from his body. Goddess & Divine Mother eventually licked the blood before it could reach the ground and hence conquered & over powered him).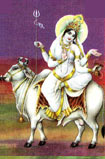 Maa Mahagauri

Maa Durga's fourth form is Maa Mahagauri. She is dressed in white and is one of the most soft-spoken and simple form of Maa Durga.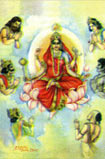 Maa Sidhidaatri

Maa Durga's ninth form is Maa Siddhdaatri. She is a treasure house of Mystic Powers (Yantra Tantra) and Knowledge (Gyaan). She is worshipped by all whether its rishis, munis or Gods.
Nine mukhi Rudraksha

Special pooja & yajna

INR. 25100/-

INR. 3500/-

INR. 21000/-

INR. 251000/-
| | | |
| --- | --- | --- |
| | Maa MahaaKaali Yantra | Shri Durga Yantra |
| | | |
| 5 X 5 inches | 4 X 4 inches | 5 X 5 inches |
| 24 Carat Gold Plated Copper | Made on Rare Bhoj Patra | 24 Carat Gold Plated Copper |
| INR. 3200/- | INR. 6100/- | INR. 3200/- |
| | | |
Navratri, Navratra, Goddess, Lord, Goddess Durga , Maa, Maa Durga, Nav Durga, form, nine forms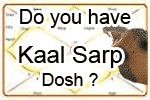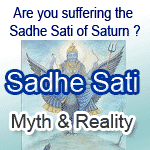 Ask a Vastu Query

Ask 3 Questions

Vastu for Home / Office

Corporate Vastu

Vastu Map Analysis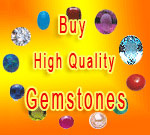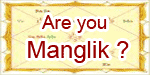 Ask a Question

Ask 3 Questions


Free Vaastu Tips

Free Weekly Horoscope

Free Monthly Horoscope

Free Sex Signs

Free Sun-sign Compatibility

Free Lal Kitab Tips

Free Dream Analysis


Is your name lucky ?

Is your firm's name lucky ?

Is your child's name lucky ?

Are you made for each other ?

Is 8 & 13 unlucky ?

No numbers are unlucky

Can Numerology affect your saving ?

Lovers Numerology

What is your Kissing style ?

Mahashivratri Legend

Eid Mubarak

Kundali - milan

Good & Bad Omens

Which Day were you Born ?

What are Karmic Numbers ?

What are Master Numbers ?

Special power of vowels

Your date of birth and health

Friday the 13th is back !

How loving of a husband/wife you are ?

Why did 'Zindaggi Rocks' not really rock ?