Navratri>Navratra Special Products
Durga Yantra & Nine mukhi Rudraksha Bracelet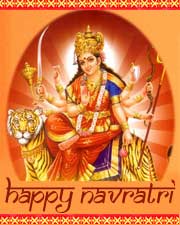 Chaitra Navratri 2017 : March 29th to April 5th
| What is Navratri ? | Significance of Navratri | Navratri Pooja |
Kalash Sthaapna in Navratri | Nine forms of Goddess Durga | Navratri Legend |
Goddess Durga Aarti | Durga Chaalisa | Navratri Celebrations |
Navratri and Garba dance | 108 names of Goddess Durga |
Who must wear Nine Mukhi Rudraksha ?

All the devotees of Goddess, the supreme power 'Shakti' must wear this Rudraksha.

Those who lack Self Confidence.

Those who have a fear from Enemies.

Those who wake up abruptly at nights due to nightmares or supernatural problems.

Those who suffer from following : Diseases of Lungs, Eyes pain, Skin Disease & Body Ache

Rudraksha Bracelet

INR. 25,100/-

Nine mukhi Rudraksha Bracelet

This energized Bracelet contains 9 beads of Nine mukhi Rudraksha and sphatik beads. Nine mukhi Rudraksha is the symbol of Goddess Durga. This is also believed to have the powers of all the nine planets.

Its wearer does not have the fear of death. It ensures complete control over enemies. It can make possible what may appear as impossible. It has special powers. It is very beneficial to people who are suffering from unknown diseases this removes the malefic effects of all the nine planets.

It increases self-power. It makes us concentrate our mind and it also creates the belief that as by hiding the head into the lap of mother, all the fears of a child finish, similarity its wearer becomes fearless. The blessings of the Maa Durga remain with him who always wears it. Nine faced Rudraksha gives the wearer both devotion and salvation. When invoked, the mother Goddess blesses the wearer with lot of energy, powers, Dynamism and fearlessness, which are useful to live a life of success. Gives Bhoga and Moksha.
One Bead of Nine mukhi Rudraksha

Special pooja & yajna

(Tied in a Thread)

(Capped in Silver)

Nav Durga Pooja

INR. 2900/-

INR. 3500/-

INR. 21000/-

INR. 251000/-
| | | |
| --- | --- | --- |
| Durga Beesa Yantra | Maa MahaaKaali Yantra | Shri Durga Yantra |
| | | |
| 5 X 5 inches | 4 X 4 inches | 5 X 5 inches |
| 24 Carat Gold Plated Copper | Made on Rare Bhoj Patra | 24 Carat Gold Plated Copper |
| INR. 3200/- | INR. 6100/- | INR. 3200/- |
| | | |
* Free Shipping in India
* For International shipping an additional Courier cost of INR. 1300 has to be paid. Pay Now