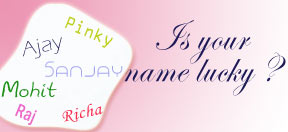 'Waqt ka har shay gulaam', Time rules every person. Man has always been a slave of time.
According to the rules of Numerology, I have corrected names of thousands of people, firms, shops and Movies & T.V. serials. There is a general question that I am often asked. Many e-mails of our Hindustan Times Readers also mentioned this query.
They want to know:
whether name correction really helps?
The answer is: Yes, Name correction can bring miraculous changes in one's life. Can any saint, any man or woman on this Earth claim to reduce temperature during the severe summers? In winters, thousands of poor died of cold, was there anyone on earth who could reduce the amount of cold.
Why is it so? It is so because none can ever change the Laws of Nature. If its winter it will be cold.
If your destiny is going through an adverse phase no one can end that, but a perfect guide can surely reduce your pains. If it is summer, I do not challenge to end heat, but I surely challenge to provide you the means to reduce the heat, by providing you a Cooler / Air Conditioner. People ask me why do I correct the names, the reason is that when you have a numerological lucky name you will not suffer much during the adverse periods and will enjoy maximum when your period in life is favourable.
Numerology is based on the theory of Vibrations and Cosmic energy. In this cosmos there are innumerable energies and forces, which have their own vibrational force. The moment a kid is born, he/she is governed by a certain principal planet and is governed by the number allotted to the planet. He, thus, starts radiating vibrations of that number or the planet by which he is governed.
His psychology, thinking, reason, emotions, ambition, likes, dislikes, health, career etc., are all dominated by the number he represents.

Is ur name lucky ?
To have personalised predictions about your name spelling please click below