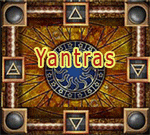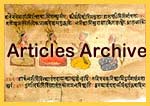 Is your name spelling lucky ?
Is your child's name lucky ?
Is your firm's name lucky ?
Why doesn't your firm earn ?
Can Numerology affect your saving ?
Lucky & unlucky names
Lucky & unlucky numbers
What are your lucky numbers ?
Special power of vowels
Your date of birth and health
What are Master Numbers ?
What are Karmic Numbers ?
Which day were you born ?
Good & Bad Omens
How
loving a husband/wife you are ?
About Us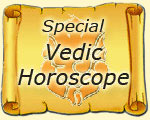 Akshay Tritiya - 24th April 2012
One of the Most Auspicious day of the Year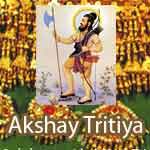 Akshay Tritiya is the third day of the bright fortnight of Vaishakh. It is believed that this day marks the beginning of the "Treta Yuga". This year Akshay Tritiya falls on 24th April, 2012.
The word "Akshaya" means imperishable or eternal - that which never diminishes. Initiations made or valuables bought on this day are considered to bring success or good fortune. Buying gold is a popular activity on Akshaya Tritiya, as it is the ultimate symbol of wealth and prosperity. Gold and gold jewelry bought and worn on this day signify never diminishing good fortune. Indians celebrate weddings, begin new business ventures, and even plan long journeys on this day.
The day of Akshay Tritiya is a very auspicious day. People worship, do lot of charity. It is said that knowledge gained or charity done on this day is very fruitful. It is considered to be very lucky day to start new business or venture. Many people buy gold or property on this day.
Fasts are kept on this day and poojas are performed. In charity, fan, rice, salt, ghee, sugar, vegetables, tamarind, fruit, clothes, are given. Lord Vishnu is worshipped on this day. Tulsi water is sprinkled in the nearby are of the idol while performing aarti.
Importance of Akshay Tritiya :
The purest and holy river Ganga is believed to have descended on Earth on this day.

On the day of Akshay Tritiya, Rishi Ved Vyas along with Lord Ganesha started writing the Mahabharata.

Parshuram, the sixth incarnation of Lord was born on the auspicious day of Akshay Tritiya.

On this day the sun and the moon are both at their peak of brightness.

In Bengal, on the day of the Akshay Tritiya, "HalKhata" or ceremony to start the new audit book is performed -with the worship of Lord Ganesha & Devi Lakshmi. Bengalis perform many rites and rituals on this day.

Among the Jat farming community, this day is known as "Akha Teej". Early morning, a male member of Jat family goes to field with shovel. All the animals and birds encountered on the way to the field indicate omen and predictions for rains and crops.

Akshay Titiya is also an occasion for weddings, which are conducted in mass marriage ceremonies. It is considered an unboojha muhurat.

Many luminaries were born ob this day: Basaveshwara born on May 4, Ramanujacharya and Adi Shankaracharya on May 6, Swami Chinmayananda on May 8 and Lord Buddha on May 16.

Akshay Tritiiya is a holy day in among Jains. People who observe the year-long alternative day fasting finish their "Tapsaya" this day.
The word Akshaya means that which never diminishes - hence beginnings made or valuables bought on this day are considered certain to bring luck and success. This day is specially important as on this day any thing you donate is shaya or never ending.
This is one of the most auspicious days according to the Hindu calendar. So this day is considered auspicious for starting new ventures and making new purchases.
The day gains more importance when it falls on a Monday or under the Rohini Star. This year its under Rohini Nakshatra. Hence, its very Auspicious.
On the auspicious day of "Akshay Tritiya"
We will perform a grand yajna for all devotees and followers.
To be a part of the Yajna or to obtain the extremely powerful and energised yantras and other pooja products please contact 0091 - 9839117339 or email us on astro_jyotishi@yahoo.com
You may also Contact us for :
"Akshay Samriddhi Yantra" made on Bhojpatra.
"Shri Yantra" made on BhojPatra and on Gold Plated Ashtdhatu plate.
"Sthir Lakshmi Yantra" made on Bhoj Patra.
"Kuber Yantra" made on Bhoj Patra and on Gold Plated Ashtdhatu plate.
Specially energised "Gomti Chakras".
"Kuber Kunji" and "Kuber Yantra".
Specially energised Parad "Lakshmi Ji" statue.
Specially energised Sphatik "Lakshmi Ji" statue.
Specially energised "Lakshmi Ji Charan Paduka" on sphatik or gold plated Ashtdhatu plate.